Discover more from KenStay.💕
My review of accommodations mostly in Tokyo and some
Onpaku Ikebukuro - Room 402 YAMAHA C2X
Play the piano to your heart content in this Airbnb with a mini grand piano
---
Introduction
One of my hobbies is trying to learn how to play the Piano. It is an expensive hobby, especially in Japan. I cannot afford a proper Piano in my place. Even if I did, I wouldn't be able to play it at night time. I found this Airbnb by accident. It is a place where I can play a mini grand Piano at any time of day.
---
Comfort: 6.5/10
When I made a booking, I knew the room will be tiny. Nothing prepares me for this experience. It is quite a shock to open the bedroom door and found a Piano taking nearly all of the space in the room. The bed is semi-double. It would be difficult to sleep two adults in the room.
There is a small kitchen in which you can prepare some easy meals. However, there is not much space to sit down to eat.
---
Location 8/10
The place is located close to Ikebukuro station. This would be an ideal place for those who will be performing around the area. It is within walking distance of Ikebukuro and Mejiro.
The apartment itself is built for this purpose. All the rooms have a Piano in them. The building is right next to JR Yamanote line. If the room is not sound proof then it would be quite noisy. I found this to be a clever use of the place. The soundproof room also prevents sound from the outside. We did not feel the rumbling when the train passed by so it was quite easy to rest at night.
---
Uniqueness 8/10
I haven't found any other Airbnb in central Tokyo which has a Piano and is playable at any time of the day. This place is unique in that perspective. As for the design of the room, it was a normal tiny Japanese apartment room. I always wonder how they transport the Piano into the room. I was told by the owner that they put it in via the window.
---
Cost 6.5/10
The room isn't cheap, compared to another Airbnb. This is understandable given the cost of building and maintaining the place. It is most useful for those professional musicians who want a place they can rehearse before their performance. The cost, the layout and some massage equipment in the room are for that purpose.
I figured it will be cheaper to rent a room at a music studio with a Piano if I want to practice for a couple of hours instead of staying at this place. Still, having a mini grand Paino which you can play any time is convenience.
---
Final Thoughts - Recommend may repeat
Ken's score:
Silver🥈 7.25/10
What I like 👍
A proper Piano that can be played any time

Very close to JR stations

Quiet at night, able to get a good sleep despite the fact that the building is right next to the train tracks
What I do not like 👎
Tiny room, even with Japanese standard

No place to sit down and eat in the room

Expensive for its size
What is it good for 🫶
A performer needs a place to stay and practice before the big day, or during their tour in Tokyo

An amateur who wants to practice the Piano for an extended period of time

Piano lovers, although the bed could be small for two people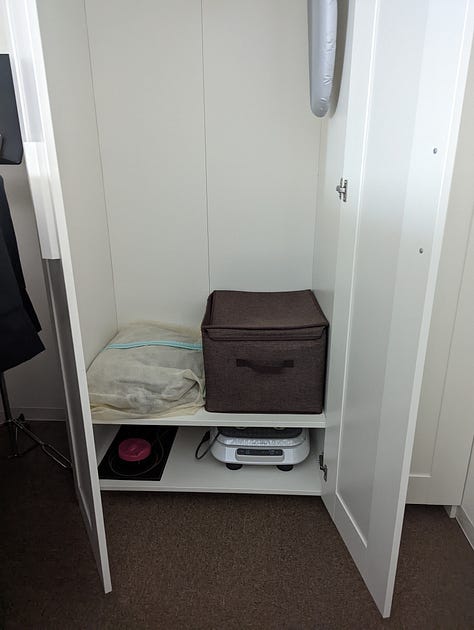 Thank you for being here. Your subscription means a lot to me. Subscribe for free to receive new posts and support my work.