Discover more from KenStay.💕
My review of accommodations mostly in Tokyo and some
[Love Hotel] Pasha Gran Ueno - room 1003
Love hotel with a park view, something you don't usually see.
---
Introduction
I have used Pasha in Shinjuku a couple of times. This Pasha Gran is in Ueno. It was recently open in October 2022. The view from the room supposed to be nice. I decided to check it out with an overnight stay, something I don't usually do with love hotel.
---
Comfort: 8/10
The room is relatively small, compared to the more luxury hotel in Kinshicho or Shinjuku. I wish there is a little more space to move around.
The bed is large. It occupied most of the space in the room. There is a sofa in front of the TV at the end of the bed. That was nice. I made a transition from the sofa to the bed relatively smooth.
One thing that I noticed is that they have got HDMI input port at the headboard of the bed. It was nice to be able to plug your own entertainment, be it a laptop or a game console to the TV.
---
Location 9/10
This is the highlight of the hotel. Highly recommend to stay in those rooms with Ueno park view. This is one of the reason why I choose to do an overnight. Waking up in the morning seeing the warm morning sunlight over Ueno park is just great.
---
Uniqueness 7/10
There is something to be said about a love hotel with window that can see outside. Most of the love hotel does not have nice view. Some does not even have a window. Usually it will be in between buildings, hence there is no nice view or even window. I think it was because people want their privacy hence they won't open the window for the outside view anyway. That wasn't the case for this hotel. The view is actually a selling point for some of the room. It was the main reason we choose to stay.
The interior design of this room in particular is rather bland. Nothing really unique about the room itself other than the park view. It was new, clean and very much like other standard love hotel, except the window overlooking the park.
---
Cost 8/10
The price is reasonable, for a love hotel in Ueno. We were saying overnight , checking in at about 9 PM and left about 8 AM the next day. Unfortunately the hotel does not take reservation. We went there during weeknight. There were multiple rooms available when we went there.
This could be different depending on the day.
---
Final Thoughts - Recommend, will repeat
Ken's score:
Gold, 8/10
What I like 👍
Park view

Close to the JR & Subway station

Large comfortable bed

Comfortable sofa in front of the TV

Big TV screen with an easy to use HDMI port
What I do not like 👎
Room is small

Generic love hotel design

Next to the main road, hard to enter discreetly.
What is it good for 🫶
Lovers who want to see the outside during their love making

Those who appreciates watching sunrise over the city.

A relatively cheap and clean hotel for those nights when you missed that last train, intentionally or unintentionally.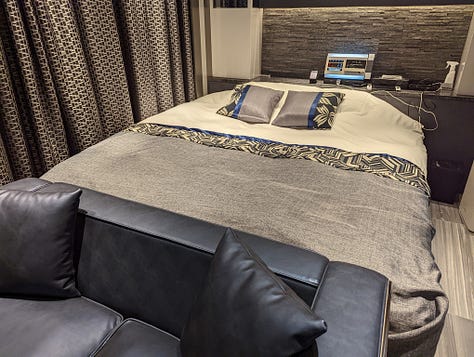 Thank you for being here. Your subscription means a lot to me. Subscribe for free to receive new posts and support my work.