Discover more from KenStay.💕
My review of accommodations mostly in Tokyo and some
[Love Hotel] Hotel The Sense - Room 102
A love hotel that feels like a high end Ryokan
---
Introduction
Hotel the sense is one of the love hotel in Shinjuku which I prefer. I love the interior design. It does not look like a typical love hotel. It looks more like a high end modern Ryokan. I was told this was designed by the same team that design Iroha sex toy. Make sense given the Iroha hotel in Roppongi share the same design language.
This hotel does not take reservation, unfortunately. I only managed to get this room because I went there in the morning. Rooms on the first floor, which technically in the basement, are always popular.
As the time to this writing, the hotel only allow two people. They may allow two females and one male with extra charges.
---
Comfort: 9/10
The room is large, but not wastefully large. There are spaces to move around. The bed is big and comfortable. It is placed next to the window so we can get the sunlight from outside. The room has two bathtub, one inside and another one outside. There are stair steps in order to get to the bathtubs. It was quite a unique layout. It was also fun to explore what you can do with that setup.
One thing we noticed is that the lighting setup from the control panel could take a while to respond. Be patient when it doesn't respond immediately.
The food menu is surprisingly good. It took time to arrive but the quality was great. Plus it was not overpriced.
You can also leave the room to go outside and come back later during your service time stay. Great if you want to make a quick run to get some stuff or went out for a meal somewhere. Just tell the reception and they will keep the key for you. You can leave your stuff in the room as long as you are coming back before your check out time.
---
Location 8/10
The hotel is at the edge of Kabukicho, which could be good or bad depending on your situation. I found it easier to get there from Shinjuku line than the JR. The entrance is discrete. It look more like a modern style hotel rather than a flashy love hotel around the area.
There is Hotel Grandchariot , which belonged to the same group next door. In case all the room are booked at the Sense and you are in a hurry for a room. That hotel is a bit older but the design is quite similar, although not as great.
---
Uniqueness 9/10
All the room in this hotel share the same design. A modern take of A Japanese Ryokan. It does not look like a love hotel. It feels like a high end Ryokan somewhere outside of Tokyo.
My favourite has to be the outside bathtub (Rotemburo). All the room on the first floor has them. This room 102 has a jacuzzi outside, equipped with lighting.
Note that all the room on the first floor are below street level, right under the entrance. There are walls to block the view from outside and to only let the unlight in from the top. If you make too much noise, then people walking on the street might hear them. That could be good or bad depending on your preference.
---
Cost 8.5/10
The price is reasonable, for a love hotel this size in Shinjuku. There are cheaper room in this hotel, but only four rooms are with rotemburo. The one on the 6th floor are also nice.
Their service time during day time is long. That makes it more cost effective if you are going to stay for a long period of time.
---
Final Thoughts - Highly Recommend, will repeat
Ken's score:
Gold 🥇 8.625/10
What I like 👍
Great design

Nice amenities

Nice and bright room

Fun to use Jacuzzi outside

Large comfortable bed

Space to move around in the room

Stairs in front of the mirror 💞

Reasonable price for 10 hours service time
What I do not like 👎
A bit far from train station

No reservation

It is always busy, especially the room on 1st floor.

No Karaoke, no vibrator in the room. No hook on the bed.

Price will go up quite high after 10 PM.

Does not allow group of people.
What is it good for 🫶
Lovers who can meet during day time or early evening. Overnight stay is expensive.

Those who want to spend more time relaxing in the hotel. Not just in and out quickly.

Great for remote work!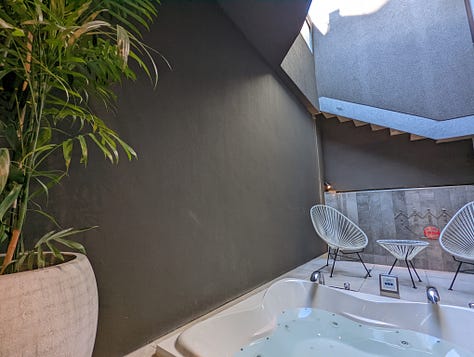 Thank you for being here. Your subscription means a lot to me. Subscribe for free to receive new posts and support my work.