Discover more from KenStay.💕
My review of accommodations mostly in Tokyo and some
BnA_Wall - Urban Nest
Lots of nesting space
---
Introduction
I was surprised to see that they are still accepting the もっと東京 (Motto Tokyo) campaign, where the government will give a 5,000 Yen discount plus a 3,000 Yen coupon per person per night. Most of the hotel has already sold out for this campaign. I managed to take this opportunity to stay in as many rooms in BnA Wall as possible.
I currently love the naked concrete and industrial look. For me, this room is one of the best in this hotel. It has got a lot of usable space, plus the right relaxing/romantic mood.
---
Comfort: 9.5/10
There are a lot of spaces to sit down. The artist even state in the manual that you are encouraged to find your comfortable corner.
That is quite true. I found myself checking out various corners of the room to sit down. It is fun to explore different corners to see which one suits you the best.
Given the bed is raised, you might want to watch your head when on the bed. This wasn't a problem for me since I am not that tall.
There are stairs within the room. Those with accessibility issues might want to notice. The hotel also warn those with small children to watch out when stay in this room. I can see what they mean when looking at how kids would jump down from the side of the bed.
---
Location 7.5/10
The hotel is in the middle of nowhere if you are a tourist. It is not inconvenient but it is also far from any tourist places. It is close to Mitsukoshi Mae station on the Ginza line and the Kedemacho station on the Hibiya line on the east side of Tokyo.
If you have something to do in that area, such as walking around Nihonbashi and doing some shopping in Mitsukoshi or Takashimaya then that's great. It is a walkable distance from Tokyo station, but I wouldn't do that with big luggage.
The area is quiet at night. There are a couple of eateries nearby. The first floor of the hotel is a bar/light meal restaurant which I haven't tried yet.
---
Uniqueness 8/10
I found myself loving the extra space under the bed. It was comfortable to sit down and get some work done. The movable cushions are perfect for my back, and one of them has a perfect height to put my laptop on. You can adjust the cushions around to suit your need.
There are corners in the room that you are encouraged by the artist to explore. This one is at the end of the bed, which is inviting for some creative use.
---
Cost 8/10
I got this room during the Motto Tokyo campaign so the price is cheap. The cost of the hotel without the promotion is in the middle range. Given the location is close to the station but not very close to any tourist attractions, I gave it a lower rating. Had it been closer to any tourist place or closer to JR station on the west side of Tokyo then it will be a better deal.
---
Final Thoughts - Recommend, will repeat
Ken's score:
Silver, 8.25/10
What I like 👍
The beds

Useful space and corners in the room

Cool-looking plain concrete walls.

Welcome drinks & amenities are at the reception
What I do not like 👎
A bit far from any tourist attractions.

Not many places to hang out around the area

A little small for the price and the location

No TV/monitor/Bluetooth speaker
What is it good for 🫶
Those who love clever design

A place to stay after a long night's work at the offices nearby

For working remotely in a quiet and relaxing atmosphere.

Travellers who have something to do in Nihonbashi, Tokyo Ningyocho station area.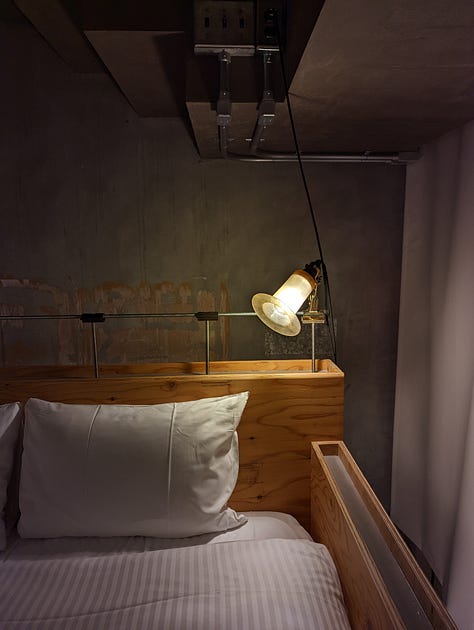 Thank you for being here. Your subscription means a lot to me. Subscribe for free to receive new posts and support my work.