Discover more from KenStay.💕
My review of accommodations mostly in Tokyo and some
[Love Hotel] Bali An Glamping Shinjuku - Room 971
Glamping in Shinjuku, open night sky, hammock, four beds, a chandelier, and a minibar. Japan love hotels keep blowing my mind
Introduction
A lady I followed tweeted a picture of the room from this hotel around the beginning of 2022. The hotel is newly opened in Feb 2022. I am especially keen on the hammock. I have always thought it would be fun to play with it. It was fun!
This review is for the party room on the 9th floor. There is only one room on this floor. Other rooms in this hotel are much smaller. Some of the room has hammock which you can check at the reception or when reserving the room online. I have used this room for three and four people. According to the website, this room can cater for up to eight people.
---
Comfort: 9/10
There are four beds in this room. Two queen size beds and two double beds. The beds are comfortable. The height of the hammock in this room is about right. The lower bed next to it made it comfortable to use while the lady was on the hammock.
There is a minibar with various alcohol mixers for making cocktails, along with a tall table and chairs looking out the window. They are great for nighttime views.
The mini fridge is filled with cans of soda water and tonic water. You can order soft drinks from the first floor or get them yourself. The good thing about this hotel is you are allowed to go outside during your stay, take the key and go.
The rooftop is open to all guests. There are net beds where you can lie down and watch the night sky. We didn't use it that much since it wasn't dark when we entered.
The only thing I wish this room had was the Bluetooth speaker. There is one in the bathroom but not in the main bedroom.
Like most Bali An hotels, they take online reservations for both overnight stays and short time. It is not common for a love hotel to take reservations, especially for a short stay. This makes it much easier to organise a group gathering, given we know we will have the room.
---
Location 8/10
It is easy to find the place. The hotel is close to the batting centre, at the corner of the street. Very easy to get in. Kabuicho is a bit of a walk from JR Shinjuku station. Better to take the Otemachi subway line and walk from there.
---
Uniqueness 8/10
Glamping is the current trend in Japan. I can see where this concept of this love hotel is coming from. The execution was nice, especially the hammock. There are plus some coffee beans, coffee filters and a grinder in the room which is perfect for coffee lovers.
All the cutleries in the room are camping style with the hotel's logo. There is a bit of quirkiness about having the camping theme and a chandelier in the same room.
The most important part for me is that they allowed multiple guys to use the room, something which is unique to Bali An hotels. Not many love hotels will allow multiple guys in the room.
---
Cost 6/10
The hotel is very pricy, even by love hotel standards. This is a high-end love hotel. Booking is highly recommended if you want to use this hotel for more than 2 people. The cost will be slightly cheaper than walk-in.
---
Final Thoughts - Recommend, will repeat
Ken's score:
Gold, 8.25/10
What I like 👍
Hammock!

Possible to make a reservation for short time use and overnight stay

Spacious for love hotel standard

Openable windows with a reasonably nice view

Multiple beds

Mini bar with unlimited mixer
What I do not like 👎
It is expensive 💴 💴 💴

The room could get hot during the daytime in summer

Check-in time for a reserved short stay can only start from 13:00-15:00

No Karaoke
What is it good for 🫶
Lovers in group

Group of friends to party without worrying about noise and get drunk

A couple who want something for that special occasion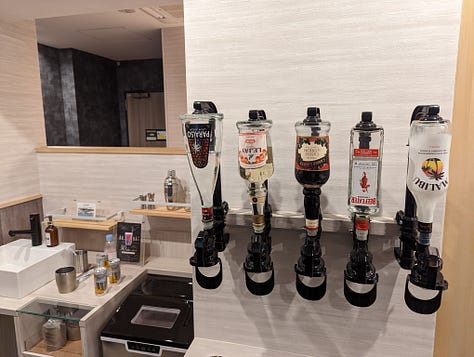 Thank you for being here. Your subscription means a lot to me. Subscribe for free to receive new posts and support my work.